Custom Homes Built to Your Needs and Budget
Congratulations on reaching the pinnacle of the American Dream—building your own new custom home. We share your enthusiasm and excitement and it's a thrill for us to be a part of that. But there's also that trepidation and sea of choices now making your head swim. We get that, but we're also good at making it much, much easier for you.
Every decision, every challenge, is met one at a time. Before you know it, you've plowed through and put it all behind you. In the process, you will have gained confidence in your decisions, and been empowered with knowledge to make informed choices. Then when the construction begins, every detail will be well planned before one shovel of dirt has been lifted.
Design and Build
Design of your new home is a product of your needs, preferences, and lifestyle. It's fully tailored to you, both now and in the future. There's a very good possibility you could spend the rest of your life in this home. We are an "aging in place" specialist so we can help you plan for the long term.
Do we run into challenges? Certainly! While getting to know you so we can fulfill our truly custom construction mandate, your ultimate wish list could present some challenges. We welcome these, embrace them. It helps make the end result all the more exciting for both of us.
Direct Access • Undivided Attention
This ought to be standard practice in the new home construction industry, but it's not…not even close. It's actually a rare advantage you'll get from N. Huckins Construction so it should be okay for us to brag about it. You'll have direct access to owner Nathaniel Huckins (Huck) and you'll be fully informed at every stage of your project.
You'll also have a dedicated team building your new home. We don't take people away to work on other projects. You have our undivided attention until the exciting day arrives when you can tell us that we're done. After that, we'll pretty much be like family, definitely friends.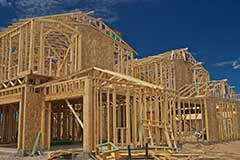 I received some quotes from N Huckins Construction on a couple projects involving my new home construction. He was VERY thorough and brought several samples of state of the art materials. I was pleased to see someone looking at new technology and explaining the pros and cons to me about it. I Highly Recommend him for your project. It will be done on time and in the best quality available. I will be using Mr. Huckins in the future, and am very grateful for his understanding and integrity.