Truly Unique and Personalized Kitchens
Open your food pantry and you will see boxes, cans, bags, and other standardized containers. Open most kitchen remodeling sites and your experience is all too similar with boxed packages and canned presentations. We've seen that too and realize that it doesn't help you much. Serving up something out of a box might work for a quick meal, but your kitchen remodeling? Really?
Okay, a boxed kitchen design will work just fine for most people and they need to do what's right for them, but we're here for you. We know boxes are too confining, and understand your desire to break free because we share it. You've already invested heavily in your life and home. You understand the lasting value of a personalized kitchen remodel.
If expecting more describes you, you are most definitely in the right place. We've worked hard to be easy to find, so you hopefully didn't have to wade through too many of the boxed kitchen remodeling sites. Those tend to wear you out quickly when you don't fit the mold.
Your Custom Kitchen Remodel is a Collaborative Project
That collaboration is between you and us. The concept of "listening to you" is neither new nor original, you'll find it in company literature and on wall plaques whether it is really practiced or not. We're almost reluctant to say it because of overused marketing hype and lip service, but it is central to every aspect of your personalized kitchen remodeling.
When you contact us to discuss your kitchen remodeling project, you can rest assured we will not do any kind of "sales presentation" or pressure you in any way. What you will have instead is an interview which is part of a discovery process. You will be interviewing us to determine if we are really the best contractor to provide your new kitchen. We will be discovering everything we can about you to be able to provide a truly personalized kitchen design, even if you think your dream objectives may be impossible.
You may have noticed too our use of the word design. A kitchen built around you cannot happen without it. Whether you have researched extensively to know every detail you want to see or are so overwhelmed with all the options that your head is swimming, we help you design the kitchen that is ideally suited to your needs, preferences, and budget.
One Last Important Distinction
Once you decide to have N. Huckins Construction provide your new kitchen and we schedule your kitchen remodeling project, yours is the ONLY project we will be working on. We see it through to completion and you have our undivided attention until it wows you beyond everything you envisioned it to be.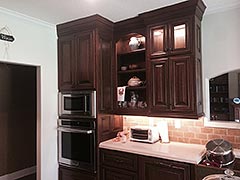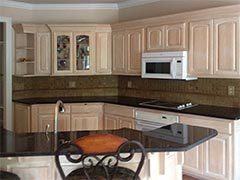 I felt like I was having to settle on just anything so I could finally be done until we met Huck. He came in and got right in my mind. He knew what I wanted and how I wanted it. He became my miracle! Even showed me more than I could have ever imagined I wanted! He has given us the most beautiful kitchen we have ever had. The compliments from our family and friends are endless. It truly does look like a magazine kitchen.