Gain More Space Without Moving
There's a common misconception that it's more cost effective to sell a current home and buy larger when you need or desire more living space. That's simply not the case. Adding on to your home is a practical solution without all the disruption created by moving.
You really win at every level with a home addition. You gain more square footage, increase the value of your home, and it's less expensive than buying a larger home. You also get to make all your own design decisions rather than shop around for the closest match to your needs.
Have Fun and Enjoy the Process
This is where you get to dream and create the best increase in living space that your budget will allow. You'll find that Huck the owner is a great listener and his experience in transforming your wish list into a well planned solution is what helps gain him praises. Your finished addition will be truly you and Huck's expertise will assure every detail you might not consider on your own will have been discussed and taken into account.
And yes, you'll have direct contact with the owner of the company every step of the way.
No Bouncing Between Projects Either
When you entrust your home addition to N. Huckins Construction, you get our undivided attention. The team of professionals working on your home will be working ONLY on your home until it's completed and is more stunning in reality than it was in your imagination. During the process, you'll be completely informed of the schedule every step of the way, and the work space will be clean at the end of each day.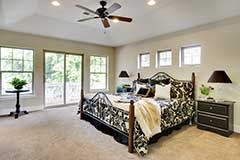 From the moment I met Nathaniel, I knew he would do a professional job. I was very impressed with his response to my inquiry about the project. He was very honest about how the work would be performed and it didn't take me long to choose him as my contractor. He got to work right away showing me different design plans and kept me updated.