Striking Details Through Custom Tile Work
Custom tile is one of the best ways to express your personality and distinguish yourself and your home from the constraints of following the herd. You get to step up from the ordinary that marks the norm and live the extraordinary instead. The personal satisfaction and enjoyment you will derive from your home is reward enough but you will get many compliments from guests too.
Custom tile is not a sideline for N. Huckins Construction, it is one of our primary specialties. Beyond the skill to create personalized custom tiling details for you, we take the time to get to know you so we can accomplish your goals and dreams. Once hired, we dedicate ourselves exclusively to your project to assure that it's completed in the shortest possible time and that you are in awe of the results.
When you're viewing this page because you appreciate custom details in your home like well crafted, custom tile, you need a contractor who understands the why. That's as rare to find among contractors as your appreciation of fine details is rare among the general population. That makes us an ideal fit for you. We invite you to contact us about your project.
Thinking Outside the Kitchen, Bathroom, and Laundry Room
The kitchen, bathroom, and laundry room are the most common places where tile is used but the potential for stunning custom tile work far exceeds such limits. Of course, we will use your objectives combined with our creativity and skill to make any or all of those three rooms anything but ordinary.
But thinking outside these boxes opens up a whole new realm of possibilities.
Your entryway is an ideal candidate for custom tile; not just due to the durability and ease of cleaning that tile will offer in such a heavy traffic zone, but creative use of tile serves as a staging area to create an immediate mood and impression as you and your guests enter your home.
Other rooms and areas for creative use of tile:
A tile border around a carpeted area such as a living room or family room
A fireplace area
A dining room or dining or showcase area within the dining room
A recreation area or home gym
Custom Tile Design/Design Assistance
This is where we make it as simple for you as possible. Whether you have lots of pictures you've collected for ideas you like, or we need to go through a discovery process to arrive at the tile design you will be totally pleased with, we will provide the guidance and planning to bring you to the place of full confidence in your decisions before any construction begins.
Contact us to discover why so many other discerning homeowners like you are thrilled that they chose N. Huckins Construction to create unique custom tile work for their homes.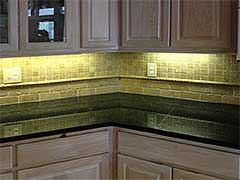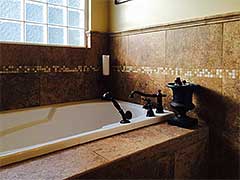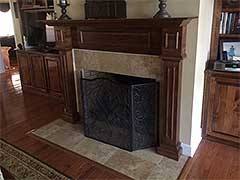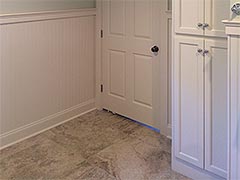 We are so happy we met Huck and could not be more pleased with what he has given us. Not to mention his patience, professionalism and promptness. We will definitely refer him to any one we know. Thank you so much again Huck!