Custom Shower Design and Construction
The custom shower design part is at least as important as building or creating your custom shower. Your options for a custom shower are staggering to say the least. If you've only looked at displays and/or books at a warehouse hardware store, or even chain stores that tout bathroom design, you'll be amazed and thrilled at what you can have with a real custom shower design.
This is where N. Huckins Construction really stands out from the pack. You get the personalized attention to every detail that other business models centered around mass production showers or pseudo custom showers just aren't set up for. We help you consider every variable so you have full confidence in your design decisions before construction begins.
Once you move past the planning and design of your custom shower, you of course want a qualified builder. The expertise and specialties of N. Huckins Construction, especially our skill in custom tile, mean you get the same attention to detail in creating your custom shower as in designing it. There's yet one more special benefit you receive: your custom shower will be our only project until it is done. We don't balance multiple projects, you have our full attention.
Contact us to discuss your own dream of a truly custom shower.
Custom Shower Ideas and Information
The ideas and information here are certainly no substitute for the personalized attention you'll receive from us, especially considering how your individual needs and preferences can't truly be addressed without a consultation, but it will be helpful in getting you started toward a custom shower. This serves well as a primer or inspiration for options you may wish to discuss with us.
One of the most popular options is a barrier-free shower, also called curbless or roll-in showers. Originally, they were designed for people with mobility issues because they are accessible even in a wheelchair, but the spacious design and ease of cleaning have made them a popular choice for all types of homeowners.
Another option rapidly growing in popularity, we could even muse that it's hot, is the steam shower. The calming effects and health benefits of steam have long been known and used in spas. Steam is relaxing, it forces the release of toxins in our body as we sweat them out, and the newer revelations in aroma therapy add even more benefits. You can have your own private steam room just by having this option added to your custom shower.
One factor that undeniably influences how your custom shower looks and performs is the tile. We not only have access to tile you won't find at the retail stores, our expertise in designing and installing unique "tile art" assures your custom shower will cause a pause. You wouldn't expect a shower to make people marvel as if it were in a gallery but yours will. Also, high grade tile requires proper installation so you get the longevity you expect. We are custom tile experts and there's no benefit to being shy about that.
Be sure to click on the pictures on this page to see inspiring examples of custom showers. More importantly, contact us to get your personalized consultation mentioned above so you can soon be enjoying a custom shower designed to meet every desire you have and open up possibilities you may never have even thought of.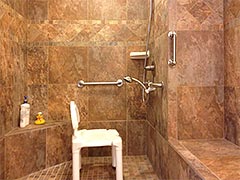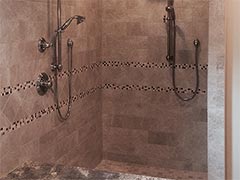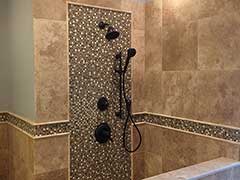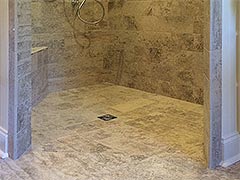 Mr. Huckins was friendly, knowledgeable. He does the job right the first time, and he does what he says he's going to do. He worked with me to ensure project was laid out and completed the way I wanted it done and within my budget.