More Accurately Bathroom Design and Remodeling
Bathroom design must precede remodeling to be truly personalized. That's our distinction as your custom bathroom remodeling contractor. Your new bathroom will be exactly that… your new bathroom. We're certainly not against production bathrooms, they're just not for everyone.
By finding this site, your search for a contractor who understands that you are a unique individual who values personalized remodeling is over. No matter how impossible or unrealistic you think your ideas might be, we welcome hearing all of them. We're not here for the masses, we're here for you because there aren't many who are.
Beginning With the Bathroom Design Phase
At this stage, you likely are in one of three places or perhaps a blending of them:
You've researched, you've looked and observed, you've shopped, you've sorted through countless options and you now know exactly what you want to achieve with your new bathroom design
You've done much of the above only to get more overwhelmed from all the choices and details
You've got a good idea of your options and know generally what you would like to see, but you need help formulating a plan
Regardless of exactly where you are right now, we'll help you move to the next level of planning a new bathroom that meets every objective you have now and even some you may not have considered yet. To say it's all centered around you may sound quaint since marketing gurus have abused that promise, but we have no better way of saying it. More importantly, we'll add the substance by staying true to that promise.
We'll help you hold on to the enthusiasm you're entitled to when getting a new custom bathroom design without getting weighed down by the planning process. We'll ask you questions so we can use our expertise to streamline the most ideal design. You'll find yourself enjoying this phase because it empowers you to make informed decisions and gain the confidence required to achieve your perfect bathroom design.
Remodeling Your New Custom Bathroom
By the time you get to this phase, you'll not only be excited, you will have approved every detail of your bathroom design and your anticipation will be almost painful. Not a very good sales pitch is it? The good news is, that phase won't last very long because all the planning will make the remodeling flow smoothly.
In fact, and this is where many contractors inflict a lot of pain on homeowners, you won't be waiting through construction delays! You get our undivided attention until your new bathroom is completed beyond your satisfaction. We don't balance multiple projects. When we stated above that it's all about you, this policy demonstrates our commitment to that promise.
When the Noise is Over
There is a very special day in your near future when you contact us for your custom bathroom remodeling. No matter how good your imagination is, even though we will look at many pictures together and show you materials in advance, and though we provide renderings to help you envision your new bathroom, nothing in your head is quite like the day we unveil your new bathroom.
You have permission in advance to hug your contractor. That happens a lot. It's special for us too. Seeing you so enthralled with your new bathroom is part of our reward. We not only love what we do, we love that special moment when we get to see your face light up. That says more than words and it's why we use such a comprehensive process to assure we get that response.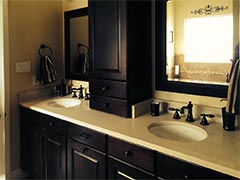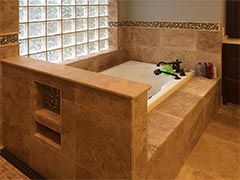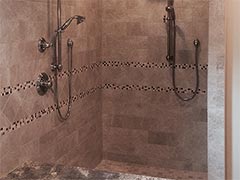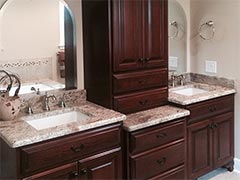 We contacted N. Huckins Construction about enclosing our backyard porch and were so pleased with the attention to detail that he showed on that project, we knew he was the one to remodel our master bathroom. He was very easy to work with and was very helpful as we finalized our plans. I was very picky with the details and realized he has an artful attention to the details too. We have been SO pleased with every aspect of our project.