Accessibility Remodeling
The author of a recent news article about a music legend referred to the musician as an aging rocker. Someone brilliantly commented, "Isn't every one of us aging?" That person was right; it's just a matter of which stage we are at in the process.
For those of you with mobility issues, whether from age or other reasons, that's what Aging in Place remodeling (or accessibility remodeling) is designed for. It allows you the dignity of living independently in your home for as long as possible. This is a specialty for N. Huckins Construction because we understand that physical limitations seen from the outside don't change the person you are on the inside.
This will come as great news to you for a variety of reasons:
If you've lived in your home for many years like you probably have, selling it and leaving a place with all those memories can be a painful choice even though it may not currently suit your needs
Moving is inconvenient and expensive, and starting over with mortgage payments at this stage of life only adds more burden
You may be surprised how a few modifications can keep you in your home for many more years at a lower cost than moving
When and if you do decide to sell, there will be a large segment of buyers looking for a home like yours that's been modified for accessibility
Below is a brief outline of home modifications that could be very beneficial to you.
Kitchen Modifications
If you are using a walker or wheelchair, extra room is needed for easier mobility. Cabinets often require modification for easier opening, closing, and access. Your kitchen sink may need to be lowered to accommodate a wheelchair or allow sitting.
Bathroom Modifications
The bathroom is the one place that usually often presents the most challenges depending on your current design and mobility. Accessible toilets must be taller than traditional ones and be barrier free with hand rails installed for added safety. Showers and tubs would be replaced with borderless shower areas that allow comfortable seating and easy access. In spite of the challenges, we specialize in solutions.
Hallway and Doorway Modifications
Narrow hallways and doorways pose some of the more dangerous falling threats to people who rely on a walker for mobility. Increasing their width greatly enhances safety and is usually required for wheelchairs. Any thresholds in the home must also be removed for added safety and mobility. It is also recommended that the type of flooring throughout the home or first floor be made uniform.
Personalized Solutions and Undivided Attention
Our policy of creating home remodeling solutions customized to your exact needs and desires, and focusing exclusively on your project until it passes your inspection and exceeds your expectations, applies to every project we do. That most definitely includes our Aging in Place remodeling.
There are enough variables in making your home more accessible to numb your brain. When you already have mobility issues, the last thing you need is analysis paralysis. We'll use our expertise to help you make intelligent decisions based on your exact situation. The result will be the home remodeling that's just right for you and improves your quality of life.
The other part of that solution is that we don't balance multiple projects. You get our undivided once we begin your project. Contact us to inquire about this specialized remodeling service so you can experience not only the difference it will make for you, but our commitment to being the best contractor for providing it.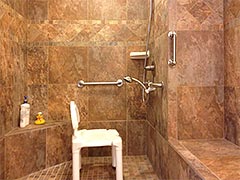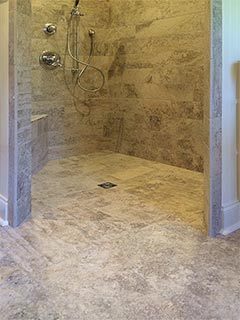 Mr. Huckins was friendly, knowledgeable. He does the job right the first time, and he does what he says he's going to do. He worked with me to ensure project was laid out and completed the way I wanted it done and within my budget.