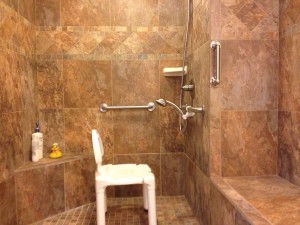 Remodeling a bathroom can be a very exciting, though often stressful, process. If you take the time to plan your remodel ahead of time, it allows for greater communication between you and the remodeler of your choosing. The more info that you can provide for them the better they can get a handle on what you want and need. More so having a firm idea of what you want will help to them to quickly estimate your new bathroom costs and determine a budget that you both  can work it in.
 Bathroom Remodeling Ideas
When you first start planning your  bathroom remodeling project, it is very important for you to gather bathroom remodeling ideas from many sources. Looking at the work that others have done in the past can help create significant inspiration when planning your own remodel.  When planning your remodel:
Decide on the style you are going for with the remodel– modern, traditional, or something entirely different

Decide how you will use your  bathroom, Ex. How much time do you spend getting ready, do you like spending time relaxing in your bathroom.

If you are using tile in your shower, consider using the same style and color of tile on the floor to create a more continuous flow to the color scheme

Create a consistent theme for your bathroom that will bring all of your fixtures, appliances, and design choices together

Using tile artistically to create designs on your walls has the potential to make even dull bathrooms attractive

Remember that simplicity can often impart a level of class and distinction to a room that ostentatious flair cannot

Always ask yourself what each decision will do to your budget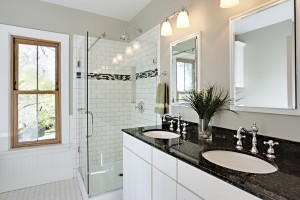 Bath Remodeling Pictures
Looking at pictures of bathroom layouts can also provide a lot of inspiration when planning your own bathroom layout. This is especially true for people who don't have a lot of experience with drawing or visualizing unique layouts. Not everyone has ability to think of a special design purely from scratch. Take care to look at:
Look for pictures that are taken in homes that match the general layout and flow of your own home

Look specifically at the materials and fixtures used in the picture, constantly stopping to look up prices

Keep yourself from spending too much time fantasizing about remodels that are outside of your price range, as this can lead to frustration and potential financial hardship

Spend time studying pictures and trying to figure out what it is that you like about each picture you look at

Always ask yourself if the bathroom would be comfortable for you to use every day or if it is just a pretty artistic image
 A great source of info is Houzz this is a wonderful site that is full of pictures from designer, architects, and builders from around the country. You are able to create a profile, enabling you to save images of ideas you like which then you can then show your remodeler to better help the design process.