No matter the size of your construction project, expect the highest standards of excellence and customer service. Call today! 228-224-4122
Construction and Remodeling Services
About N. Huckins Construction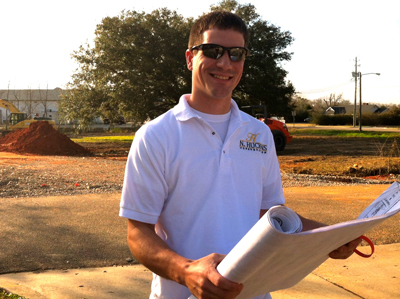 Nathaniel Huckins (Huck) started his South Mississippi construction career when he was just a young boy working beside his father and grandfather. At twenty he decided to serve his country and enlisted as a builder in the military. During his six years of service, he further developed his leadership and construction management skills as he supervised a variety of construction projects with varying scopes. He has learned the value of getting a job done right the first time and on time. He brings this perspective and experience to every job.
Huckins believes small Gulfport businesses like N Huckins Construction can provide a personalized touch lost with many larger contracting/construction companies. He has built his company based on experience and integrity. These values have created a very loyal customer base on the Mississippi Gulf Coast. N Huckins Construction customers range from couples looking to improve the value and comfort of their home through various remodeling projects, to new-home buyers seeking a custom-built residence, to older clients seeking to create a comfortable and safe space for an aging parent.
To ensure complete satisfaction, N Huckins Construction pays attention to much more than the workmanship. Your site is left neat and clear. We go the extra mile, recommending a good carpet cleaner or pointing out potential hazards unrelated to the current construction project. In other words, our goal is to not just deliver the completed job but peace of mind as well.
Reviews
"Mr. Huckins was friendly, knowledgeable. He does the job right the first time, and he does what he says he's going to do. He worked with me to ensure project was laid out and completed the way I wanted it done and within my budget. Remodeling is never as easy as new construction so, he kept me up to date on progress and any potential issues that could arise as work progressed."
Kathy Rogers
Project: Convert garage to bedroom/bathroom suite for mother
Taking great care in cleaning up after each day's work was such a surprise to us and much appreciated. His honesty, communication, and hard work was the best we have ever encountered. Because he did such a great job on the bathroom, we hired him again to solve some roof problems on a storage building and on the house. Huck can do anything, and we recommend him to anyone that wants a high quality job done.
Huck, the owner, came out right away and diagnosed the problems we were having, brought samples of materials he recommended with him and gave us a detailed account in writing of all costs. He was very conscientious about doing a good job and getting it done right. Among other notable qualities are his honesty, trustworthiness, knowledge, quality workmanship, reliability, organization and thoroughness. We were very satisfied customers and we would highly recommend his work to all.
I received some quotes from N Huckins Construction on a couple projects involving my new home construction. He was VERY thorough and brought several samples of state of the art materials. I was pleased to see someone looking at new technology and explaining the pros and cons to me about it. Due to a family Crisis, my budget demanded I do a lot of the work myself. Huck explained several things to me in detail that allowed me to complete the job. I Highly Recommend him for your project. It will be done on time and in the Best Quality available. I will be using Mr. Huckins in the future, and am very grateful for his understanding and integrity during my hardships. -J.Davis
J. Davis
New Home Construction
I never thought that the excitement of having a brand new kitchen would turn into a nightmare due to not being able to finalize it with back splash..  Either I would find something I liked and it wasn't available, or I just simply could not find what I wanted... I felt like I was having to settle on just anything so I could finally be done until we met Huck.  He came in and got right in my mind .  He knew what I wanted and how I wanted it. He became my miracle!
We contacted N. Huckins Construction about enclosing our backyard porch and were so pleased with the attention to detail that he showed on that project, we knew he was the one to remodel our master bathroom. He was very easy to work with and was very helpful as we finalized our plans. I was very pickey with the details and realized he has an artful attention to the details too. We have been SO pleased with every aspect of our project from the initial consultation, the deconstruction and installation, and especially how meticulous he was about cleaning up each and every day. We highly recommend Nathaniel's work, and not only do we have a beautiful new master bathroom, but we had a wonderful experience working with "Huck".
Kathy B.
Project: Remodel Master Bathroom
Gulfport Home Remodeling Blog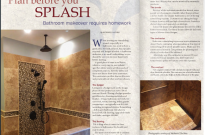 Plan before you SPLASH Bathroom Makeover Requires Homework By: Nathaniel Huckins When starting any remodeling project, especially in a bathroom, you need to …
Read more